I went to Nordstrom tonight and tried on a pair of Docs, so I would know what size I was if I was to order them online. I really liked them, except for one thing- the roundness of the toe. The pictures online really do not portray the true shape of the shoe.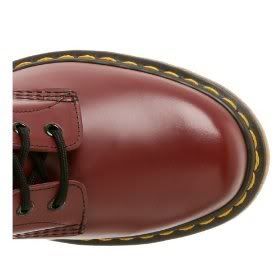 It makes them look much harsher, and not as chic! Of course, I would get used to it and end up loving that aspect if I bought them and wore them for a while. But, does anyone have opinions on this? Do you like the roundness? Are the men's less round? Holla' 'atcha girl! I saw a pair at Wal-Mart (I was looking for a costume) that looked just like Doc Martens, but with buckles! I really liked them, except for the very round toe...I saw those before the real Docs, and I thought that was what made them grosser! HA! They were just $16, so I might just buy them- the buckles are a really nice touch, and who can beat $16?! Target has a similar pair as well. Maybe after I sleep on it I will decide what the hell I want to do....
Come on loves, give me some insight? Are my first instincts right; do I just not like them?!