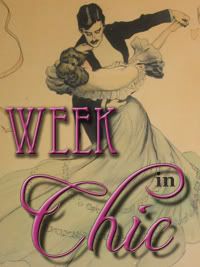 It's that time again...
The unbelievably amazing Fashion Fille finally shows the end result of her cut-off chronicles. Love it!
The Bargain Queens
do a fantastic test for a potentially fantastic product. Did the 4-day mascara perform well? Click to find out!
Hip Candy
is selling two pairs of adorable shoes. Who can resist shoes?!
Fashion Pulse
informs us that we all need a croc (faux or real) bag this season. Sure!
Fashion Tribes
talks about a genius product and why we need it for our boots.
Yuli
discusses an extremely interesting topic- Project Runway fashions on real women.
EcoSalon
shows two stunning items of jewelry. I adore both!
The Fashionable Gal
quizzes us on our vocab. Uh, oh...I didn't study!
The Fashionable Housewife
tells us how to instantly lose weight. Oh oh, I'm listening!
BarkingDogShoes
reminds us to enter the Dansko contest...ASAP!\
Go ahead, shoo, start readin'!