As you probably already know, I'm
Alloy.com
's
Prom blogger
. Thus, I've been thinking a lot about prom lately. For those of you attending a prom this year, in the future, or have memories of a prom, you'll enjoy these two little tidbits I have to share.
First, look at this dress!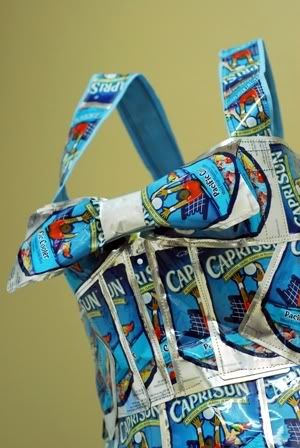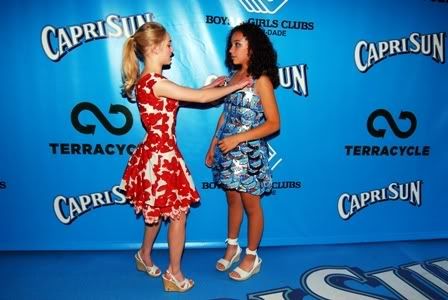 It's being auctioned off for a very recession and parent friendly price AND it's eco-friendly! (Oh, and it's pretty incredible, too.)

Capri Sun and TerraCycle may have the answer to every teen (and parents) heartfelt prom dress wish and it's available now on ebay until Saturday, April 4th. TerraCycle, an eco-friendly company formed around the concept that everything can be reused, teamed up with Capri Sun and fashion designer Justina Blakeney of LA's Compai, known for rehabilitating "used and abused" clothing, to create a truly one of a kind dress made out of more than 130 Capri Sun drink pouches. And what high schooler didn't love drinking Capri Sun as a kid?

The only dress of its kind, the 100% green design was unveiled by Race to Witch Mountain Star AnnaSophia Robb during Miami fashion week's "Ready to Re-Wear Runway Fashion Show" on March 25th. There are currently no plans for the dress to be re-created for retail. The lucky auction winner will not only have a unique designer dress for her once in a lifetime prom, it will likely be the only dress that has also walked down a high-fashion runway show. The EBay bidding start price is $100 and all of the proceeds from the eco-friendly dress will benefit the national chapter of The Boys & Girls Clubs.
How fab is that? I love the zipper in back and the bow. The idea is fantastic. To the lucky girl who wins the dress: congrats and enjoy your prom night!
Secondly, I created my own online prom, and you're all invited! Go here to attend Fashion Fille Academy's prom, or here to create your own! (Don't forget to invite me!)
It's so much fun- you can create your dress, add accessories, and then design your prom from the location to the music to the invites...to your rockin' dance moves! You have got to try it.

See you on the dance floor- I have high expectations for dresses!