Hey everyone. How is your week going? I can and can't believe it's already Thursday- this week seemed to go super slowly, but looking back, it did go fast!
I'm going on the
Susan G. Komen Race for the Cure
this weekend on Mother's Day. I'm so excited, this will be my 4th going!
I'm knitting an apple cozy! How cute is
this
?!
Just 8 days until I finish high school. Forever. 2 more Fridays, 1 more Monday, 3 regular school days, 2 AP tests, 1 Saturday, 1 Sunday...whichever way I look at it, it's unbelievable. Time goes so ridiculously fast; I can't even explain how I'm feeling.
rain suckkkks

I've been very uninspired lately, it could be the endless rain (it's been rainy everyday for weeks, it's awful.) , or my anticipation for my overwhelmingly exciting future, or my unfulfillable boredom, but my desire to blog has as a result decreased. You've probably noticed by the lack of quality posts lately. I feel like I can't even see anymore, my eyes are getting blurry so often from staring at the computer, and my fingers are frequently cramping up. Don't even think that I'm considering stopping Fashion Fille, that's not even in the back of my mind. I just need a few days to detox and focus on other activities (I wish I could run outside...rain sucks!).
Other a related note, does it seem like many other bloggers are similarly uninspired and are taking breaks? Hm, interesting...
There's some awesome things I have coming your way, stay tuned.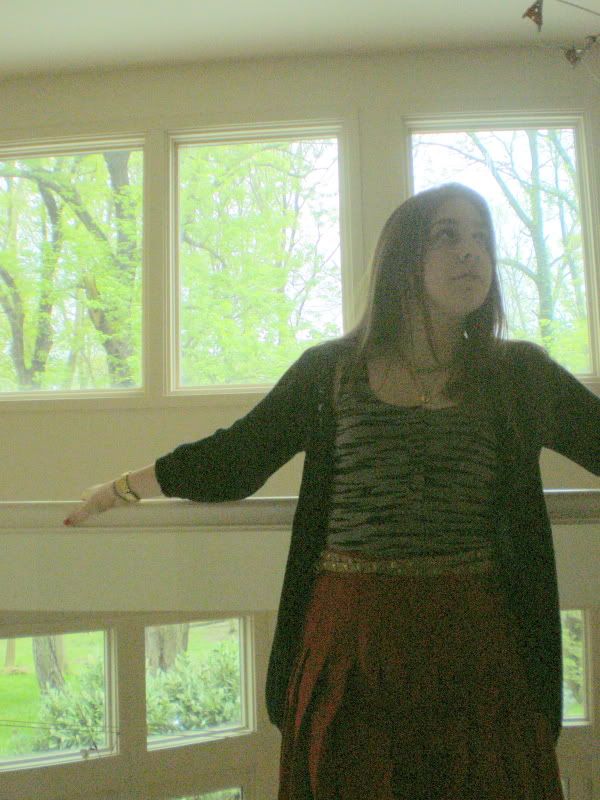 dress (worn as shirt), h&m
skirt, thrifted
belt, forever 21
Have a great weekend, everyone! I love you all!
P.S. I apologize for posting those 3 videos from teen.com TV. I didn't realize at first that they started immediately, and then after I knew, I kept them up for a few days, but finally took them down and replaced them with links. I absolutely cannot stand when a blog has music or videos that start as soon as the page loads, and I'm so sorry for making my own site irritating in that way. I won't do it again and I hope you'll forgive! :)
P.P.S.
Winner of the Tolani scarf contest
, please email me (fashionfille@gmail.com) by Sunday, May 10th, or I'll choose a new winner. Thanks!