I had the huge honor to interview the wonderful Winnie, founder and designer of the gorgeousness that is
Winifred Grace Jewelry
. Read on to find out her inspirations, style icons, and first coveted pair of shoes!
Let's jump right in- which piece in your collections is your favorite?
I am a big fan of the rhinestone fringe pieces. I love their texture and movement and the fact they have such a vintage feel but are still modern.
What inspires you?
THAT is a loaded question. So many different things inspire me . . . textiles, textures, color, contrast, photographs, fashion, flowers, food, architecture, interior design, sand, sky.
Who are your style icons?
I love Cate Blanchett, Kate Hudson, Kate Moss, Sienna Miller. Boho chic, sophisticated, elegant, natural beauties who aren't afraid to take a chance. They don't get it right EVERY time, but when they do (which, in my opinion, is MOST of the time) they really nail it . . .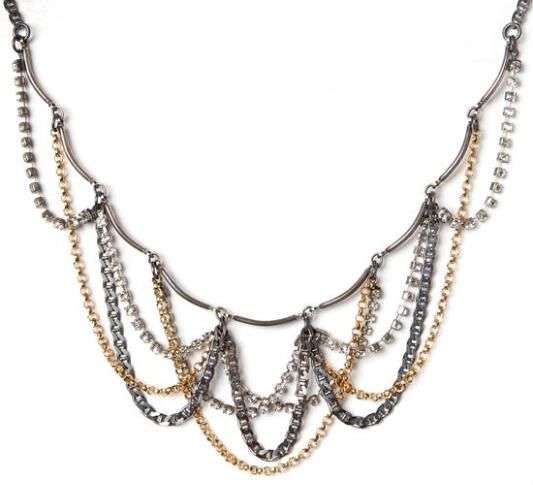 Tell me about your past career path.
As a child in Miami I had a VERY small accessories business where I made hand painted barrettes and adorned hair combs which I sold to a local boutique. I always knew I wanted to have my own business designing and selling my creations, but as I got older that fire slowly but surely was put out - by me and my preconceived notions of what I thought I should be doing with my life. I graduated from college with a major in Spanish and minor in Art History. I was convinced I would go back to graduate school for International Business, but while living in DC, working for National Geographic Magazine in my mid twenties I had an epiphanal moment and realized what I had been missing that passion I had felt for creating things. At 26 I returned to graduate school for Graphic Design. That time in school was a HUGE awakening of my heart and soul as I was totally devoted to developing my creativity into something concrete and useful. Upon graduating I moved to Chicago for a job at a boutique design firm where I worked for 3 years. I started Winifred Grace as a part time venture during my last year at the firm and in 2003 I left the firm to pursuit Winifred Grace full time.
When did you know you were in for a fabulous life of jewelry design?
Years ago a dear friend of mine hosted my very first trunk show and that sort of sealed the deal for me. I loved seeing people's reactions to the designs, and those first sales were unforgettable. The day of the show I borrowed the car of my boyfriend at the time and totaled it on the way to the show so every penny I made I gave to him! I still feel awful about that.
I have 10 plus generations of jewelers in my family. Do you follow in anyone's footsteps?
My maternal grandmother was an artist studying painting, sculpture and jewelry design at San Miguel de Allende's Art Institute for years. She is most certainly my inspiration! In fact two years ago I studied in the very same classroom she studied metal-smithing back in the 60s. She passed away while I was in college and I think of her every day, wishing she were here to collaborate and share with. It's a really powerful feeling to know that she is so much a part of what I do.
Are there certain materials you enjoy working with more than others?
I like reflective surfaces and anything with texture or powerful color. I really enjoy layering and creating repetitive patterns.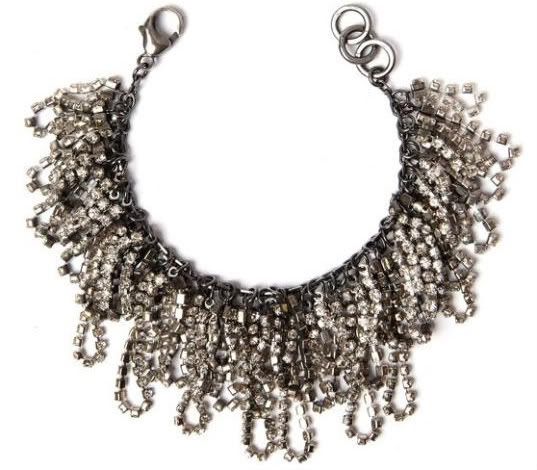 The "inspiration" section on your site could be considered a blog, which I love, by the way! Do you follow any blogs, or just blog yourself?
Some (aka my fiance) would say I'm a little obsessed with blogs.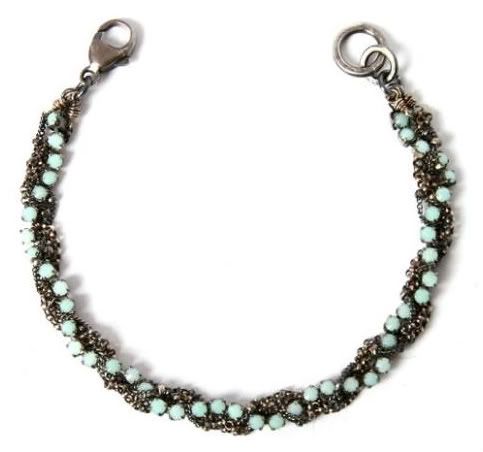 How would you say your latest collection(s) and your classic collection differ?
Well, the Classic Collection came first. That's when I first introduced the clear crystal rhinestones and creating a textile like fringe with them. To me they are very reminiscent of the clear crystal icicles which are so prevalent here in Chicago's winters. The Spring Collection is an extension of that Classic Collection but it has been infused with color, similar to the buds and blossoms we so anxiously await come April/May.
Did you study fashion design? If so, where? If not, how did you learn everything you know now?
I think all design principles whether it is fashion, architecture, jewelry, or graphic design tend to extend across the board. The same ideas about hierarchy, color theory, contrast, texture that I learned while studying graphic design can be applied to jewelry.
What is your earliest fashion related memory?
I had some leather/wooden clogs that my mom bought me in Coconut Grove in 1976. They were my absolute favorites. I wore them EVERYWHERE and with EVERYTHING.
Who are your top 5 designers (excluding yourself!)?
Jewelry or clothing? I like a lot of vintage designs and that goes for both jewelry and clothing. I am completely in love with antique tribal jewelry. . . the intricate beading and patterns are amazing! Favorites for clothing would have to be designers who make clothes I would actually wear - I just discovered a great line called Humanoid. Love Calypso. Really anything that's comfortable and natural feeling that's not too tight!
This one's a toughie- if you could only wear one, what accessory would you wear?
My engagement ring.
All quotes and images should be attributed to Winifred Gundeck, designer and founder of Winifred Grace.
Super thanks to Winnie and Courtney!
To see all of her designs and learn more about Winnie, check out her awesome
website
.