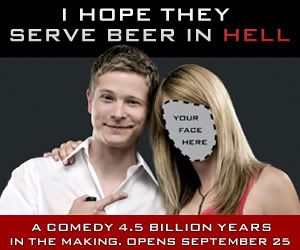 I have a really quick and fast (hence the title) giveaway- it's fun! It's a
I Hope They Serve Beer In Hell movie
swag bag--complete with a
cinch bag
,
a WWTD bracelet
,
a bottle opener
,
a IHTSBIH pen
,
a bumper sticker
,
a pint glass
, and an exclusive tour t-shirt that you can't get anywhere (unless you were at the premiere).
You heard about Tucker Max and the movie earlier
, and now is your chance to win some really awesome merchandise (believe me, I have all of these items, and they're cool to have).
Just enter your name, email address, and something you would tell Tucker if you had the chance to meet him.
Contest will last just 2 weeks, hurry! Go see
the movie
if you haven't yet!