I've got an exclusive interview with the creators of myShoes.com. We all have our own issues with shoe shopping, whether it be your narrow feet, your size 13 puppies, or your 6'2" frame that begs for low heels or flats. myShoes.com aims to make it easier for everyone to find the shoes for them. It's a search engine that allows you, the shopper, to specify all details of the pair, like style, color, features, heel height, and price range. See the included screenshots for an example of how the site works. Read on to get the inside scoop from the founders!
What makes your site different from all of the other shoe shops online?
myShoes.com is an innovative shoe comparison search site that provides users with the ability to create a customized shoe search across hundreds of different stores and brands. Select a specific style, heel height, color, brand, feature and/or price range and the site will pull matching results from various stores like Zappos, DSW, Nordstrom's, Macy's, Heels.com and many others. Once you find a shoe you like, myShoes.com will list all the stores that sell that same pair of shoes with pricing details and includes shipping and return rates and applies any available coupon codes from PromotionalCodes.com to provide you with the lowest price instantly.
What is your favorite shoe this season?
At myShoes.com, we don

'

t discriminate. We love every style, trend, size and color! This season though, we

'

ve fallen head over heels for bright suedes. An unexpected trend for spring, this cold weather style is hot in bright colors like fuchsia, yellow and purple. We love it best as a sky-high platform for an uber-trendy look!
Our top picks for Spring

'

s sizzling suedes are the Steve Madden Regaal. This platform heels features a peep-toe and ruffle detail which encompasses many of the season

'

s top trends.

For a more classic look, Jessica Simpson's Debbie platform pump in purple offers a stud detail which adds a sultry touch to a more simple style.



If you only had to wear one style of shoes for the rest of your life (forgetting about comfort), which would you choose?
Peep-toe's with a high heel, and the higher, the better! First of all, high heels create the impression of longer looking legs and what woman doesn

'

t want that? Peep-toe heels provide a sophisticated look needed for a day at the office but can be dressed down with jeans for a day spent shopping at the mall. Paired with a dress for a night on the town, the peep-toe provides the perfect amount of color on your toes and this style is great all year-round.



To the founder(s), what are your backgrounds?
Aydin Karadeniz, president and founder of SurfMyAds.com, Inc., which produces and operates myShoes.com, has a background in engineering and several years of experience in web development and the search engine field. His interest in fashion and passion for innovation led to the creation of myShoes.com.

The other ladies behind the brand bring a set of skills, creativity and shoe-obsession that make up the vibrant team at myShoes.com. Lenka Keston, the senior product manager, has a keen sense for identifying market needs and managed the development and implementation of the project from start to finish. Our dedicated account specialist, Katie Colleton, is our biggest shoe addict. Working closely with retailers like Zappos, Shoes.com and Piperlime on the company's other web-based projects, Katie brings a strong understanding of the shoe retail industry and market. Andrea Woroch, our public relations expert, brings over five years of PR and marketing experience in the retail industry with a background in beauty and fashion industries.
What's your earliest fashion related memory?
The gals at myShoes.com reminisce about playing dress up in their mother

'

s closet. Making a mess by trying on every outfit our mother's owned and stumbling around in shoes that were several sizes too big – those were the days!

What inspires you?
At myShoes.com, our creativity and passion for innovation and fashion inspire us to be the best we can be. Most importantly though, it is the incredible response and positive feedback that we've received from our users in the short time since our launch that truly motivates us. The ability to improve a woman's shopping experience by helping her find the perfect shoe at an affordable price and fulfilling the needs and desires of our shoe-lovers is our inspiration. We are eager to provide these benefits and simplified shopping experience to the women overseas with the launch of the UK-version of the site, highheels.co.uk. We anticipate the new shoe search site to launch in May 2010.
Who are your all-time favorite style icons?
A few or our top style icons are Audrey Hepburn, Edie Sedgwick, Kate Moss & Gwen Stefani for always pulling of her punk rock edge with class.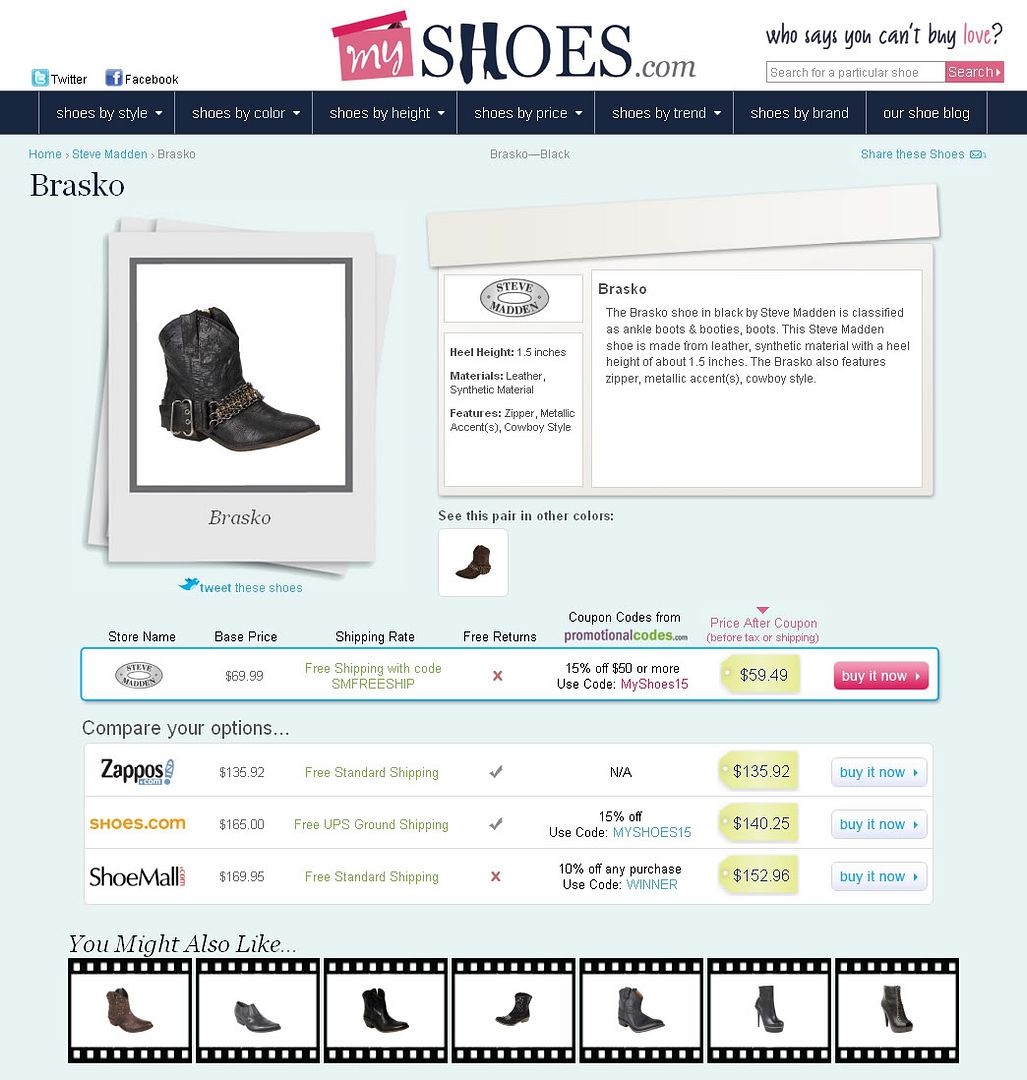 Do you read any blogs? Which ones are your favorites?
The blog at myShoes.com which features four dedicated fashion writers who share designer news, style tips and picks, and trend forecasting. We simply can't get enough.
And yet, there isn

'

t a fashion magazine or blog that goes unread. Some of top daily reads are Jezebel, Manolo the Shoe Blogger, The Budget Fashionista, Omiru, Fashion Weekly Daily and more.

Why shoes?
Shoes make every woman

'

s (including ours) heart pump. Understanding a woman

'

s passion for shoes and the market need for a more efficient shoe shopping tool, it was quite clear what we had to do.
What made you decide to make a shoe shop online that caters to specific shoe-related problems? Do you personally struggle with finding shoes to fit you?
We knew that searching for shoes on the internet could be a bit overwhelming. We wanted something for ourselves that produced the shoe results we were looking for and that matched the style, feature, color and price range we envisioned in our minds. During various brainstorm sessions, we discussed and identified the general need in the women

'

s shoe market. Thus, the idea of a shoe comparison search site was born. We wanted to help women just like us find the perfect pair among thousands of shoes at the best price possible and in a timely manner. By utilizing our other discount coupon site, PromotionalCodes.com, we were able to add an additional element for helping women to save money as well with the coupon integration function. By applying any available coupon codes to the final price instantly, women will know where to buy their perfect pair of shoes at the most affordable price quickly and easily without having to use multiple shopping, coupon or comparison sites.



Which styles of shoes do you anticipate being super popular in the near future?
Fall and winter 2010/11 is going to be overtaken by boots layered with fur and suede and feature sultry details like exposed zippers, laces & studs. With the introduction of men's inspired oxfords this spring, we anticipate the masculine styles to inspire even more designs later this year.
Thank you,
myShoes.com
team! Readers, let me know if you have any more questions to be answered!