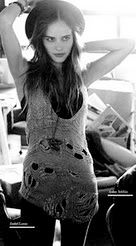 Almost exactly a year ago right now, I went through piles upon piles of back-issued magazines I'd been saving for one sole purpose: collaging. I wanted a mood board/collage for my college dorm, so I accumulated Elle's, Vogue's, InStyle's, Glamour's, Cosmo's, style supplements to newspapers, even health magazines. There was one picture I found in Elle that I had marked when I initially read it, planning to go back to it to cut it out and pin it on my cork board. It was Isabel Lucas in the coolest knit tunic I had ever seen (above). I loved it so much, I ripped her right out without even referencing the style credits to find out where I could find one of my own. Everytime I looked at my bulletin board, I was reminded of how fabulous it is, and how I still have nothing like it for myself. I searched for how to add chain to knits, for a knitting pattern with holes and chains; just something close that I could customize. I never found anything, and I gave up on it and succumbed to admiring it from my board.
Until...WhoWhatWear saved me! (Sort of.)
Tell me, how can I create this fantastic top for myself?