20120514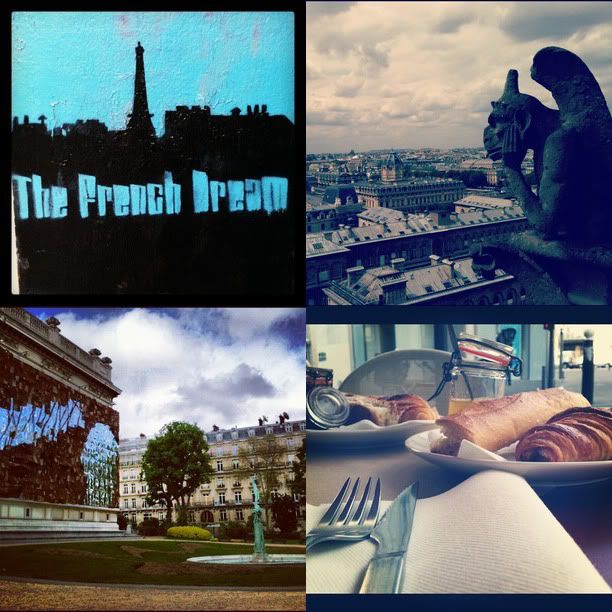 Paris, you've done it. You've got me totally, completely, utterly fanatic about you. Five days left, and I'm grasping on to what remains.
A month ago, I was exhausted, beyond ready to flee, ready to commence my next exciting journey, ready for my life as I knew it back. I felt as though everything had been amazing, but that good things must come to end. Blame the rain, but I got a renewal of enthusiasm, and it came on hard.


My last week here has suddenly arrived, and as I'm rushing to cross off every last thing on my list, an indescribable feeling has been coming over me. I'm anxious to be back in the comforts of the US, to eat Chipotle and hot dogs and put Sriracha on everything, do yoga and rush down the streets, smile and speak English to strangers and laugh loudly in public, randomly text my best friends and have a quick phone chat with family, and especially, to be back in New York, where most of my heart is (I'll be leaving a piece of it here).
But, I'm so sad to go home. I've smoothly adapted and become very attached to the incredulous qualities of Paris. Each step over each cobblestone sends dismay through my body, knowing that step is closer to one of my last (for now). Each evening walk adds to the feeling, when Paris is arguably at it's most gorgeous, with cafe corners full of friends. I say to a friend "we have to go to [insert local cafe/boutique/shop/street here] sometime!", only to remember that the time is very limited; that I need to make the best of everything now. I'm so happy to have been here and so sad to see it end. This feels like separation anxiety at it's finest, and I know I'm in for a shocking first few days in America. I fear I won't be able to properly identify how I feel, and that no one will be able to understand, leaving me craving for the comfort of my friends, eventually back at their homes, spread across the country. I know I'll be thrilled to back in New York, back to my dreamy college bubble, back to everything I knew before Paris, but I'm scared. Will this all feel like the remnants of a deep, visceral dream?
The past four months have gone faster than anyone could ever explain. The past four months have taught me more than I could ever share in a lifetime. The past four months have introduced me to the most amazing people from all over the globe, helping me feel connected to our world in a way I could have never anticipated. The past four months have opened my eyes, my perspectives, my abilities to empathize, understand, bond and relate. The past four months have fortunately allowed me to travel so frequently, visiting places that will never leave me. That past four months have given me a new love, and I'm leaving my lover behind. I just don't know what to think after these past four months. Yes, I'll miss my friends, the people, the unreal food, but I'll miss Paris the most.
In January, I began my adventure to Paris, never visited the city before, yet somehow knowing so deeply that I needed to be here. I was right. Paris is unlike anything else. Its energy, lifestyle, charms, food, passion, values, style. I'm completely in love, and it hurts not knowing when I'll be back.
For now, Paris, thank you. I'll be back very soon, and we will pick up just where we left off.
with love,

elysia mann
at 6:03:00 PM
0 comments